Garter Snakes
How Do Garter Snakes Handle Their Prey?
Snakes -> Garter Snakes -> How do Garter Snakes Hanfle their Prey?
A common question about garter snakes is how do they handle their prey?
Garter snakes, like all non-venomous snakes, will attempt to kill their prey using suffocation rather than poison or may even try swallowing smaller prey items whilst they're still alive.
Indeed, it has been recorded that relatives of the garter snakes have been caught easting live amphibians, whereupon they've been so startled by the apprearance of a human that they dropped the prey item which wriggled off to live another day.
It's important to remember when discussing how garter snakes handle their prey that they will always swallow their prey whole - whether it's dead or alive - and so there are some important points to raise.
Firstly, there is a limit to the size of the prey item that can be consumed by any snake, garter snakes being no exception.
They will only rarely try to eat something much wider than the thieckest part of their body, though I have seen photos of enormous pythons in the wild with huge bumps in their stomach where they have eaten a small deer!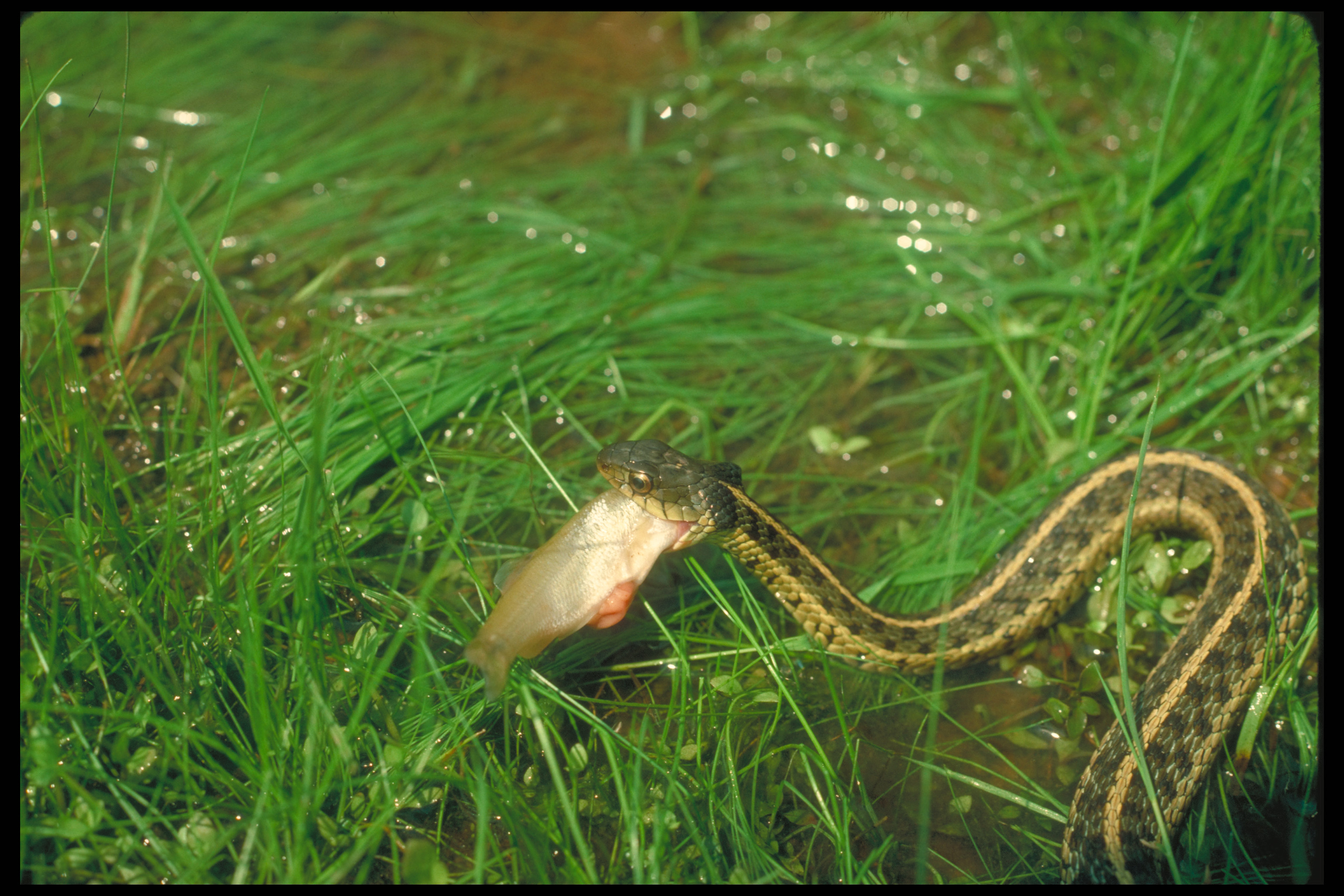 For a garter snake that grows to around an inch in body diameter this clearly limits the type of prey it will take.
Once a garter snake has found a suitable prey item it's time to get it into a position to eat it. Whilst it doesn't happen every single time, in the main this involves eating it head first.
The benefit of this is that all the limbs, hairs, ear etc. on the prey will fold flat as the snake swallows it head first, whilst if it swallows it the other way round these parts of likely to stick out and cause it to jam in the garter snake's throat.
The snakes have a specially modified jaw that not only dislocates from it's socket in the skull, but also can split in half thanks to a jaw that in two halves that is held together with an elasticated joint.
These two actions - of the jaw going down and out - by a considerable margein allows the snake to swallow such a large meal in one go.
The garter snake's rear-pointing fangs help to keep the prey travelling in the right direction and no popping back out of it's mouth.
Indeed, the process by which snakes tend to swallow their prey is to slowly move one side of their jaw forwards followed by the other side and so on working right along the body of the prey item until it has been fully swallowed.
Then once the snake can safely close its mouth again (and watching it put it's jaw back into the right place can be quite fun!) rythmic waves of muscle in the snakes digestive system helps move the prey along through the gut to be digested - a process known as peristalysis.